---
So, at the beginning of this year (2019) I started an art project (read more here The Crazy Time Experiment) and then it took a hard creative turn…
The Crazy Time Experiment is a piece of artwork I'm documenting here from inception to physical completion.
I initially envisioned The Crazy Time Experiment as a series of very colorful handmade cardboard blocks that I would line up together to spell out the words "Crazy Time." These colorful hand painted mixed media blocks would be on a simple black and white background.
Then I took a hard creative turn.
Since that time… I have ordered several 16×20 inch hardwood half inch cradled panels.
Personally, I find the 16×20 size big enough to make a statement on a wall, but not so big it becomes unwieldy.
In this shipment I ordered 6 panels of 16×20 with a half inch cradle. Although these are hardwood I don't really care what material they are made of.
For me, expensive panels would be a waste. So much of my work involves glue as I will be covering the entire (or nearly so) panel. So I just go for the cheapest. As long as it's tough enough to stay flat when glued mercilessly, I'm buying it.
The Hard Creative Turn
Next comes the hard creative turn in this plan. The more I thought about my idea for The Crazy Time Experiment the more it changed. I like the idea of blocks to spell out "Crazy Time," but what if I did something more abstract and with a pattern?
I love adding simple shapes to my art. Circles, squares and rectangles seem to always make their way into what I'm doing. So I thought what if I did a bunch of squares  that were similar in pattern but not exact and placed them in a linear fashion on the panel?
The squares would have an abstract design, but be presented in an orderly, linear fashion. I saw something on line that was kind of like that. The artist had different colored cubes on a plain surface. They had used mostly solid colors, but I liked the linear yet abstract feel to it.
So the words "Crazy Time" have morphed into a series of mixed media square blocks.
Check them out –in progress– below. I've just begun to put some color and embellishments on them:
I should say.. that as an artist there are a few general concepts that I almost never deviate from. These are concepts that have developed over the last several years as I've worked more and more with the simplest of materials.
Most of my art is made with recycled paper and cardboard boxes. Above, I've chopped up cardboard boxes into approximately 2 inch squares.
The designs are my mixed media artwork done on book pages, magazine pages, old calendar paper etc.
So I like to think in layers, I like contrast, I like dimension and lots of texture.
Then I like to have a Focal Point! Most abstract art I see doesn't have an obvious place for the eye to land. Personally I just don't think abstract art is as strong without a focal point. Maybe that's just me… but then that's what art is about.
Your personal preferences. An artist isn't an artist without a POV.
Below are some of the squares at the most basic level. I've chopped up cardboard into 2 inch squares and glued them together to make a square approximately 1/4 – 1/2 inch thick. I'm not sure exactly what size will do yet.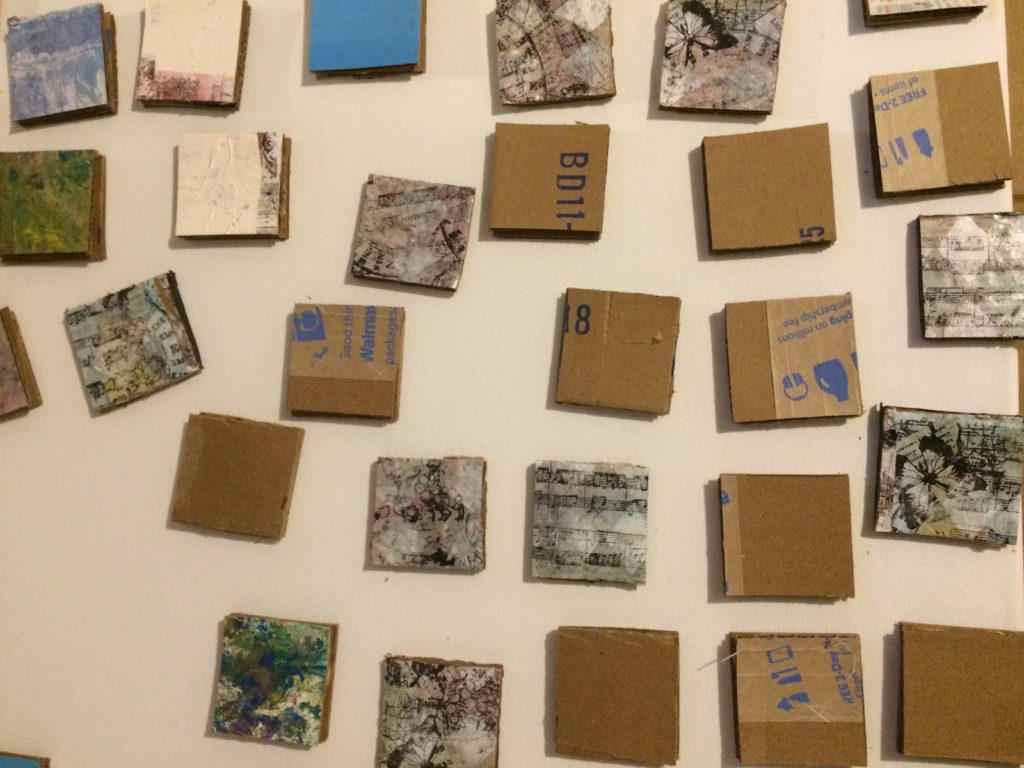 Then I painted an artist panel in an abstract design. I don't like to buy anything unnecessary to make art. However, I've found that super cheap artist panels resist warping and can be used as a layer in between cardboard pieces and the hardwood panel.
Once I've finished the cardboard squares, I will apply them directly to this panel below.
Below is what the panel MIGHT look like after I applied the square and then glued that mixed media paper I created onto the wood panel.
That's really a hard creative turn from my initial idea.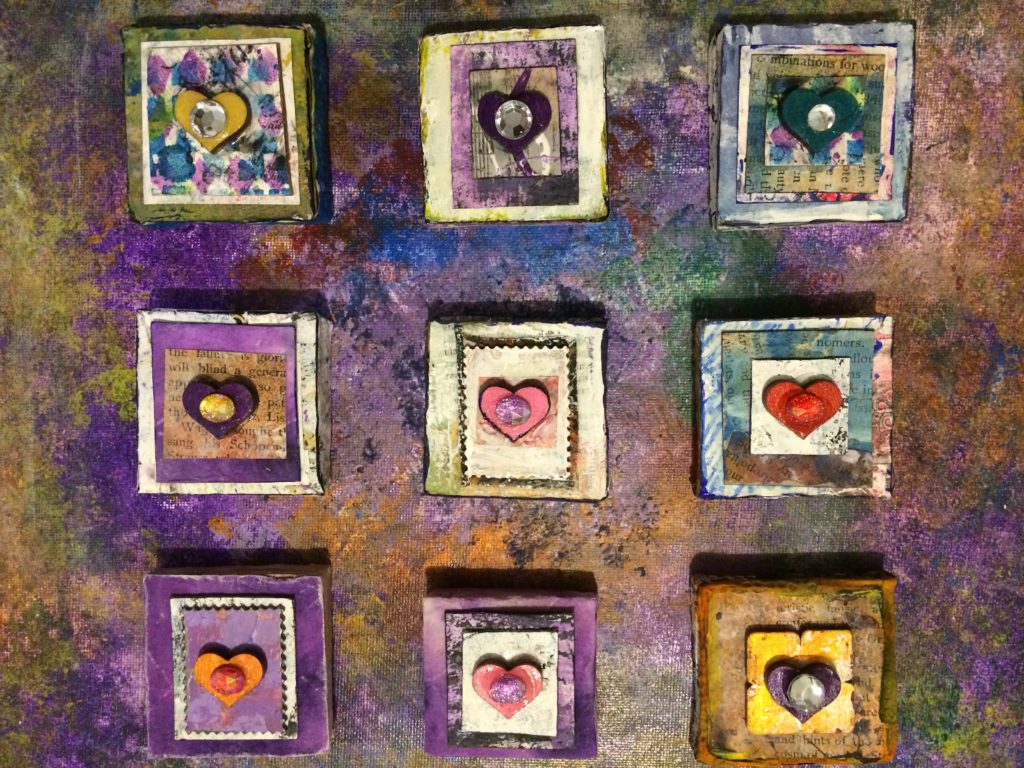 So now you're getting the idea of where this "Crazy Time Experiment" might go. This is quite a departure from colorful blocks spelling out "Crazy Time" on a black and white background.
However, I liked this square block so much I thought I might do something else with them.
Unfortunately, I think my artwork looks much better in real life. I hope you can see the layers and contrast that I'm going for here. I've included a few more pics below…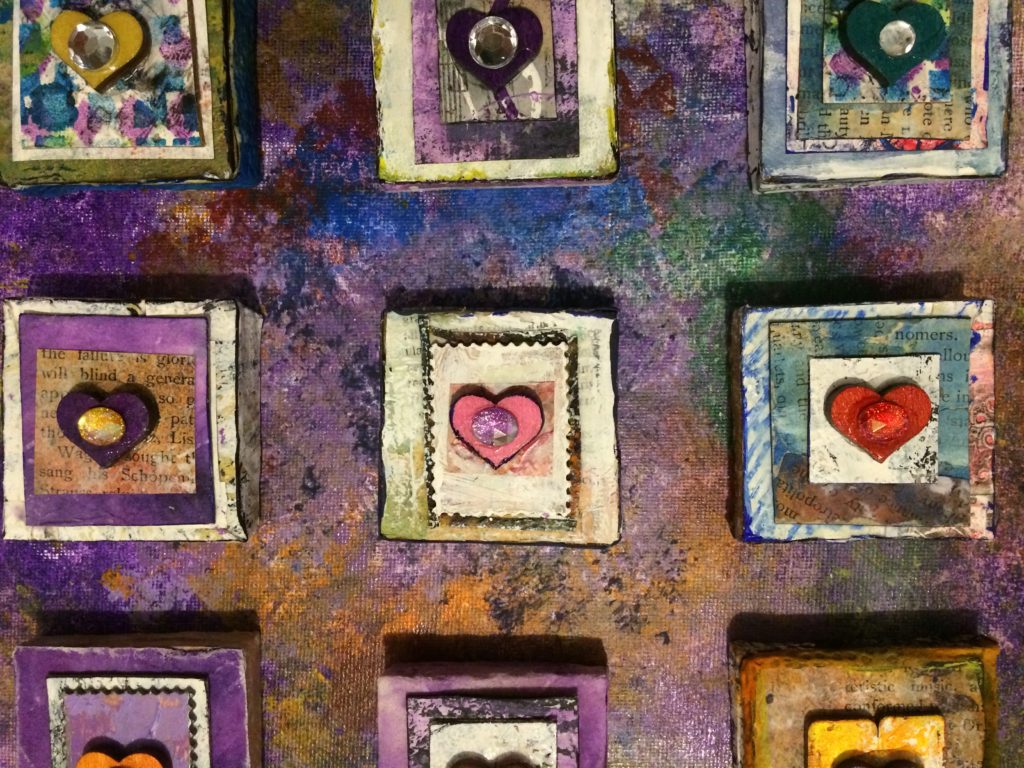 Thanks for reading and I wish you much imagination.
Renee is a writer, voiceover performer and life force energy coach.
If you think you might need a coach in your corner check out more info here…
Main writer's site: thewritersnexus.com
Other posts you might like…
Artsy Shark Shot Me Down…
Analyzing Creativity… The 4 Steps