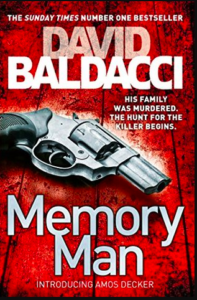 Memory Man by David Baldacci
Title: Memory Man
Author: David Baldacci
Genre: Mystery/Thriller
Main Characters:
Amos Decker – Amos is our protagonist. He's a physically huge man, an ex-football player and former police detective. He has hyperthymesia. The condition of having almost perfect autobiographical memory. 
Captain Miller – Newly appointed captain of Decker's old police precinct. 
Mary Lancaster – Decker's old partner when he was on the force as a detective.
Alex Jamison – Tall, very attractive and very ambitious female journalist for a local paper.
The Book Review
The first chapter introduces us to Decker's condition. Hyperthymesia.
Marilou Henner is known for this condition.
In Decker's case however, he "acquires" a near perfect memory after a terrible hit on the football field. The tackle leaves his brain changed forever. This includes his memory and personality.  
We also find out about the horrendous loss of his family.
He walks into his home one night to find his brother-in-law, his wife and ten year old daughter…
Murdered.
For the next 10 chapters Baldacci writes about Decker without any sustained interaction between him and a pivotal character.
The author wants us to fully understand Decker's condition, how it came to be, how Decker deals with the devastating loss of his family and his physical surroundings. All this before Baldacci allows us to delve more deeply into the mystery that is to come.
A Few Surprises in
Memory Man by David Baldacci
I was struck by how much time the character spent alone in the first part of this book.
There is a lot of narrative which explains Decker's thought process and how his brain was changed by the accident. We discover how Decker goes from being a respected detective to a getting-barely-enough-work PI.
Memory Man by David Baldacci wants us to get a deep inside look at Decker before he takes us on the rounds.
And it works.
Most novels on the bestseller list (unlike Memory Man by David Baldacci) get you into the action quick and reveal the main character/s through the action taking place. Baldacci introduces Decker in a more methodical way. He's showing us, from the inside out, who Decker is and what he has to deal with.
It happens to be a perfect set up for the unravelling of what is to come. It's necessary for us to understand the workings of Decker's brain before we see his brilliant investigative process. And we get it. The reader really starts to know Decker.
Memory Man is a powerful read. Baldacci has done an excellent job creating this unique character.
Hitches & Hiccups
What he hasn't done so well is write his female characters.
First there's Mary Lancaster, Decker's old partner from his time on the force. She's described as a "good cop but not great" by the officious Captain Miller. This seems to be a common sentiment among the precinct staff. 
Baldacci even has Lancaster asking silly and obvious questions throughout her and Decker's investigation just to plow home the point.
It was annoying.
Then there was the pretty and ambitious Alex Jamison, resident tenacious reporter. 
Baldacci had made sure we knew that Decker is not particularly physically attractive. He's not just tall and large, he's fat too. He doesn't dress well. Amos Decker lives in an apartment complex for single men. He doesn't make much money as the independent PI he has become since leaving the force. He's still devastated by the loss of his family and struggles emotionally. 
We empathize with Decker. He's suffered greatly. We respect and admire Decker. He's incredibly intelligent and hard working. But he's no heartthrob. No Romeo.
Yet, Baldacci brings Alex Jamison to the edge of flirtation with Decker. The reader starts to wonder how much of her interest is journalistic curiosity and ambition or whether she actually finds Decker appealing. Which seems far fetched.
It was annoying. 
Recommended?
All in all though I believe Memory Man by David Baldacci is a must read. The Amos Decker character is a genuinely unique and likable protagonist that you root for and want to see more of.
Indeed, Baldacci has already written a second Amos Decker book…  The Last Mile.
Below Baldacci gives us a quick synopsis of Memory Man.
The other video below is of Baldacci recounting his experience with the… FBI? CIA? Listen below…
In This Video David Baldacci Talks About His Experience With A Secret Government Agency. FBI? CIA? Listen to this…
---
If you liked this book review check out what I say about Invisible by James Patterson
Sneek Peak Critique© of Chapter 1 of INVISIBLE
Sneek Peak Critique© of Chapter 2 of INVISIBLE
ALL Social Media: https://linktr.ee/seekcraft1
Email: thewritersnexus@gmail.com